eJukebox Controller App
eJukebox is a music solution for pubs, clubs, bars, venues, cafes, retail outlets & functions.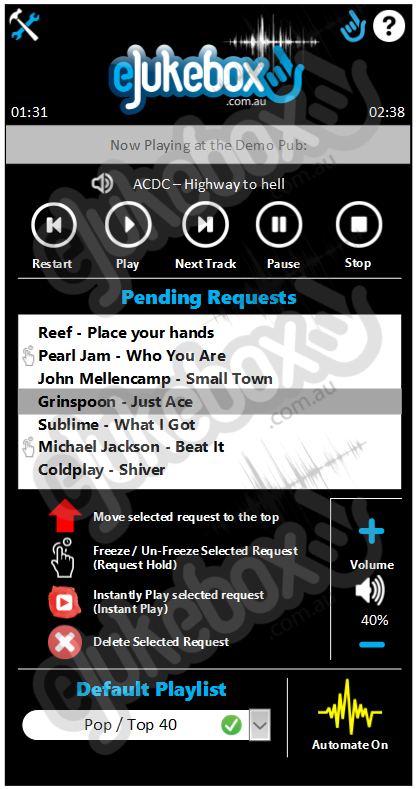 Are you thinking what I'm thinking? Why would you give access to any punter to request any song at your pub? The eJukebox Controller App gives you FULL control over what is played at your pub and provides the necessary guardrails:
Allow punters to request any songs
Allow punters to request any song from the currently selected playlist

this option is the safer option, set and forget. You set your desired playlist, then customers are happy customers. They can choose their drink, their food and choose their favourite song.
eJukebox can be easily used at functions by using the eJukebox Controller App.
Designed by a DJ, this app allows anyone to be the DJ at an function event or venue right from a smartphone using one hand and holding a drink in the other hand


Having a wedding? You don't need to pay for your own DJ, this app will do everything that a real DJ can do including gracefully stopping the music for speeches plus lining up and playing specific songs for cutting of the cake, first dance, garter toss, bouquet toss etc


Walk around, be a part of the event, mingle, drink and enjoy yourself. eJukebox will run automatically mixing songs together beautifully playing requests while you have ultimate control, you can cut in if needed right from the palm of your hand, show off to your friends!


The eJukebox Controller App is available for both iOS/Android iOS/Android